I left work at 6pm and went straight home to finalize my suitcase to start my trip. Everything was more or less ready, all I had to do was close the suitcase, check everything and set off for Porto.
My flight was at 06:00 on Saturday in Porto, so I planned to leave home on Friday from Coimbra to sleep there. But suddenly, my crazy friend Tarci sent me a message saying that he had just arrived in Porto from Germany, and invited me to party the night away. I went! kkkkkkk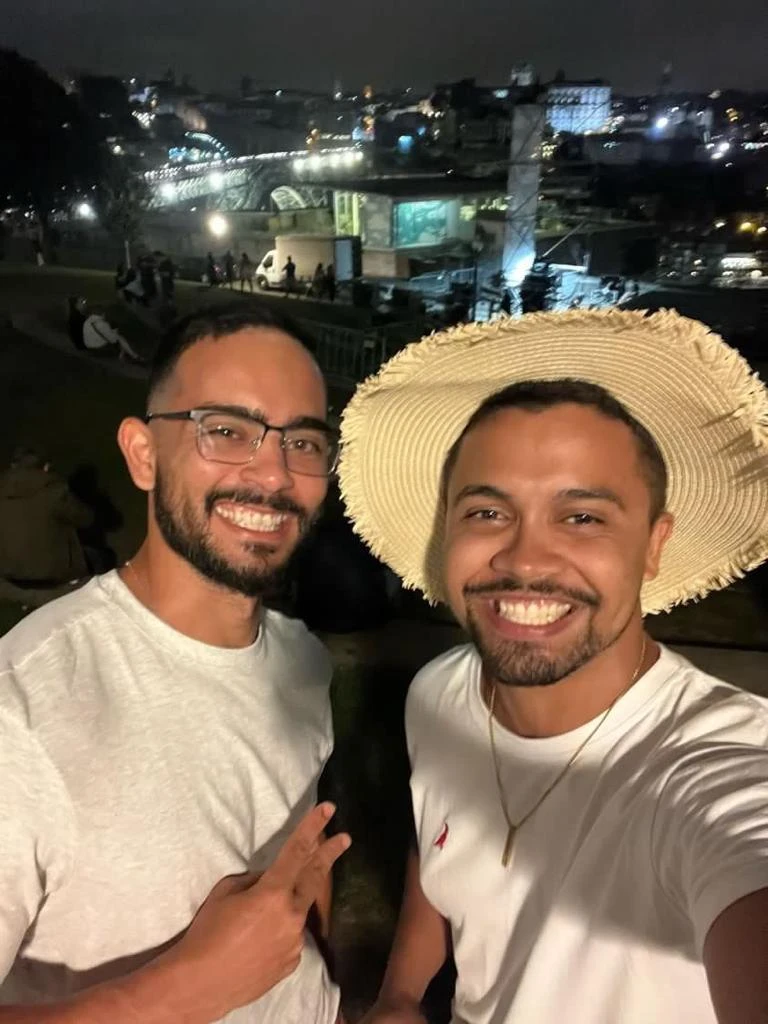 We met at Jardim do Morro, one of the most famous places in Porto to watch the sunset. There are lots of people there. From there we turned right, crossed the Luis I bridge and headed towards the Lion Fountain. According to Tarci, he had found a meeting on GetYourGuide, giving a tour of the city's bars, with free drinks offered by the team, as well as meeting new people. On the way to the meeting we passed by the most famous McDonalds in Portugal.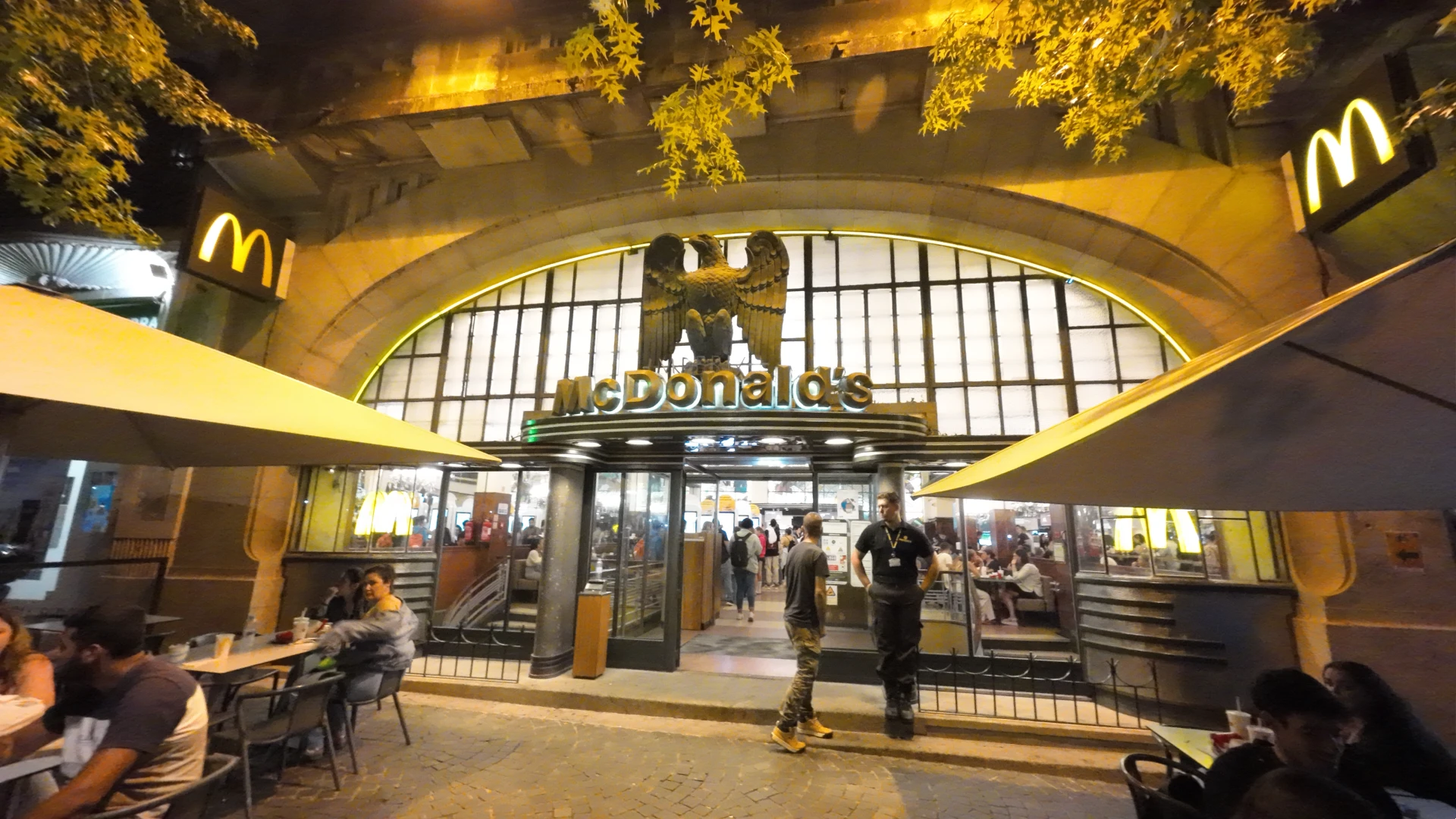 So off we went, met up with the staff and set off in the direction of Jardim da Cordoaria. There we started drinking, they served us a Portuguese drink that looked like whiskey, then Tarci went to get us a beer. When Tarci returned, I was already chatting to some very nice Dutch guys, who ended up offering us a beer. From then on we went on together almost all night with the Dutch, chatting and talking a lot of garbage.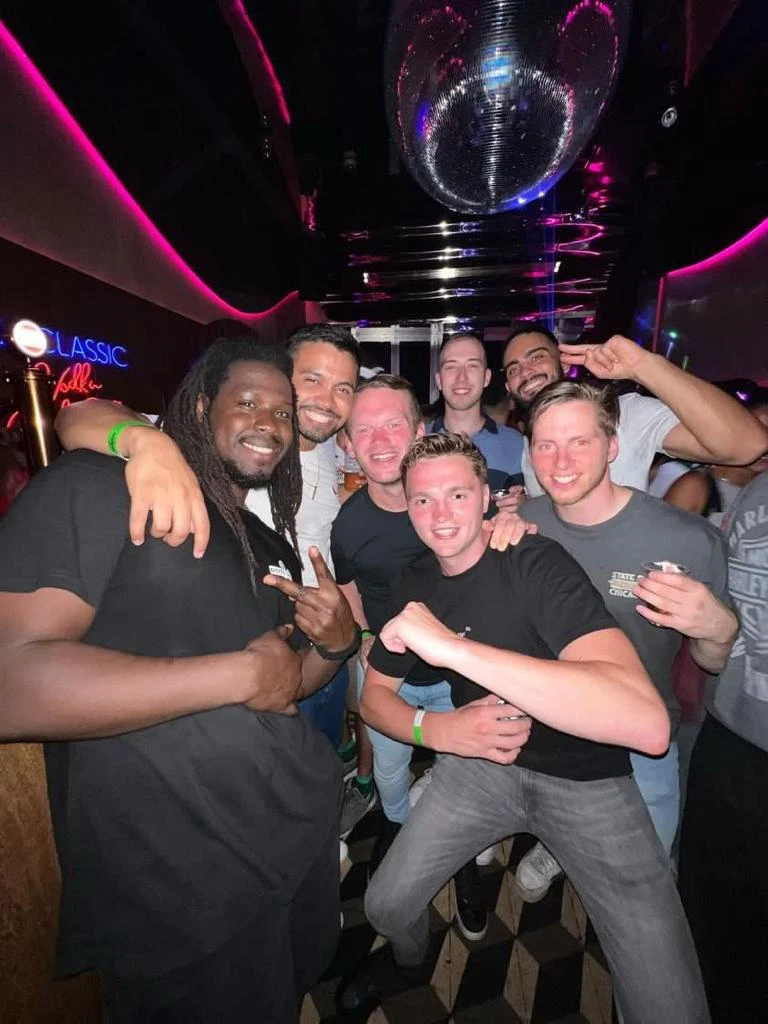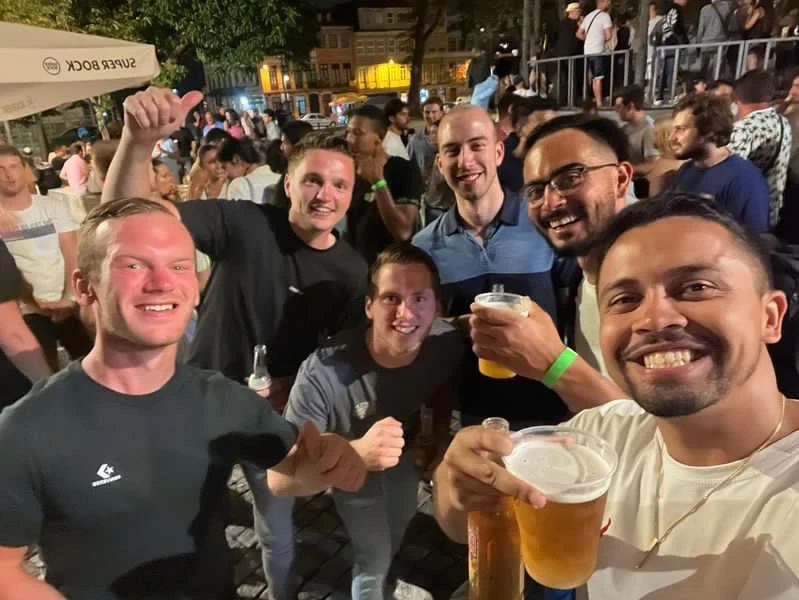 What is the nightlife like in Porto in the summer?
The nightlife in Porto, Portugal, during the summer is an exhilarating and vibrant experience that comes alive as the sun sets. Known for its lively atmosphere and diverse entertainment options, Porto's summer nights offer something for everyone, from party enthusiasts to those seeking a more relaxed evening.
As the warm sun dips below the horizon, the city's streets transform into bustling hubs of activity. Ribeira, Porto's historic riverside district, becomes a central hotspot for both locals and tourists. The quayside bars and restaurants lining the Douro River create a picturesque setting where you can enjoy a leisurely drink while soaking in the enchanting views of the iconic Dom Luís I Bridge and the colorful riverside buildings.
Porto's nightlife scene extends beyond the riverbanks, with various neighborhoods offering unique experiences. The Galerias de Paris street, known as the epicenter of Porto's nightlife, comes alive with energy during the summer months. This narrow street is lined with a plethora of bars, clubs, and live music venues, each with its own distinct character. From trendy cocktail bars to traditional taverns, you'll find a diverse range of establishments catering to different tastes.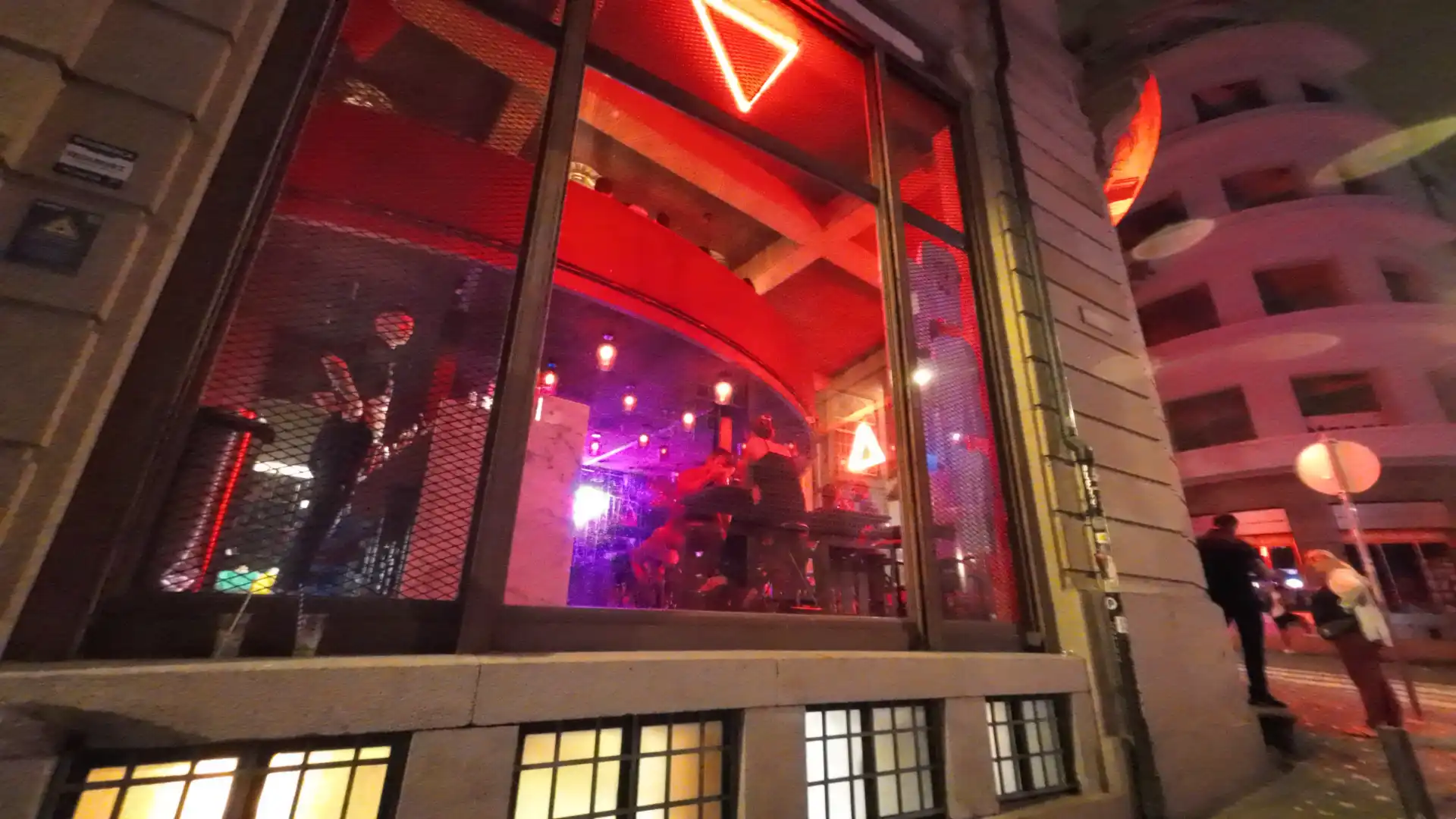 Live music is a staple of Porto's summer nights. Many venues host local bands, DJs, and even international artists, creating an electric atmosphere that resonates through the city. From jazz and blues to electronic and indie music, there's a genre to suit every music lover's preferences.
One of the most unique aspects of Porto's nightlife is its "esplanadas," outdoor terrace seating areas that spill onto the sidewalks. These charming spaces provide the perfect setting to enjoy a drink under the stars and engage in people-watching as the city comes alive around you.
For those seeking a more relaxed evening, Porto offers numerous wine bars and traditional tascas, where you can savor the region's famous port wine and indulge in local culinary delights. These intimate settings provide a cozy atmosphere to unwind and immerse yourself in the city's rich culture.
The nightlife in Porto during the summer is not just about partying; it's about embracing the city's vibrant spirit, socializing with both locals and fellow travelers, and creating unforgettable memories. Whether you're dancing the night away in a club, sipping wine by the river, or enjoying live music in a cozy venue, Porto's summer nights are an invitation to experience the city's dynamic energy and lively social scene.
During the night we cant forget our backpack as a solo traveler, then, i carry mine everywhere i go.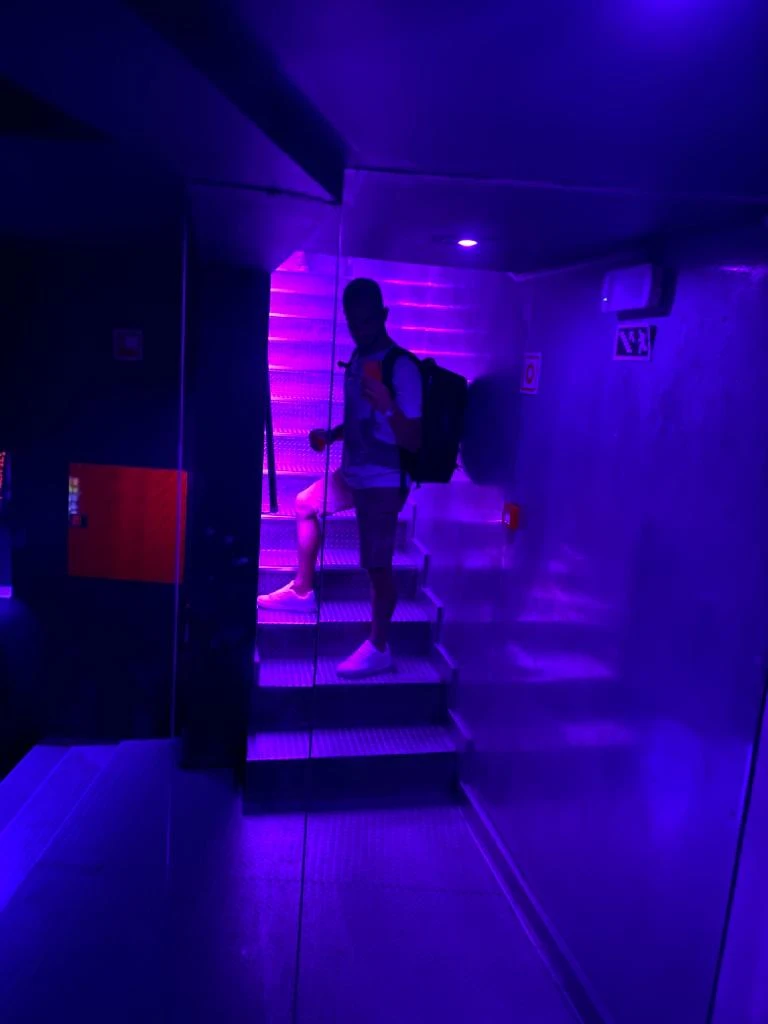 Which are the best nightclubs in Porto?
Porto, Portugal, offers a vibrant nightlife scene with a range of nightclubs where you can enjoy a fun night out with friends. Here are some of the best nightclubs in Porto:
Gare Porto: Known for its eclectic music lineup, Gare Porto is a popular nightclub that features a mix of electronic music, live performances, and themed parties. It's a great place for dancing and enjoying a dynamic atmosphere.
Indústria Club: This nightclub is located in an old industrial building, giving it a unique and trendy vibe. Indústria Club hosts a variety of events, from techno and house music nights to themed parties, making it a favorite among locals and tourists alike.
Pitch Club Porto: Pitch Club is well-known for its electronic music events, often featuring renowned DJs and artists. The club has a modern design and a top-notch sound system, creating an immersive experience for partygoers.
Maus Hábitos: While not a traditional nightclub, Maus Hábitos is a cultural and artistic space that hosts a mix of events, including live music, DJ nights, exhibitions, and more. It's a great spot to enjoy alternative music and a laid-back atmosphere.
Plano B: Plano B is a multi-level nightclub known for its diverse music offerings, ranging from electronic and techno to hip-hop and indie. The club often hosts themed parties and events that cater to a variety of tastes.
Hard Club: Located in a historic building along the Douro River, Hard Club is a versatile venue that hosts concerts, DJ nights, and cultural events. It's known for its alternative music scene and is a great place to enjoy live performances.
Vogue Café Porto: If you're looking for a more upscale and glamorous experience, Vogue Café Porto is a stylish nightclub that offers a mix of music genres, along with a trendy ambiance and chic decor.
Plan B Porto: Plan B is a long-standing nightclub with a relaxed atmosphere and diverse music lineup. It's a favorite among locals and offers a mix of electronic, hip-hop, and alternative music.
Club 118 Porto: This club offers a mix of electronic and commercial music, making it a lively spot for dancing and socializing. With multiple dance floors and a rooftop terrace, Club 118 provides a variety of settings to enjoy.
Passos Manuel: Similar to Maus Hábitos, Passos Manuel is not just a nightclub but a cultural space that hosts a range of events, including DJ nights, live music, and art exhibitions. It's a great place to experience Porto's alternative scene.
Remember that club scenes can change over time, so it's a good idea to check current event schedules and reviews before planning your night out. Additionally, make sure to respect local customs and regulations while enjoying the nightlife in Porto.
Flight from Porto to Paris, 2:30 hours away
We stayed there walking from bar to bar with the people from the meeting until about 3:20 in the morning, when I took my bus to the airport in the front of Porto Town Hall. The flight from Porto to Paris (Orly) was at 6:30, so I stayed there until it was time to pick up my suitcase. Right below you can see me sitting in the sidewalk waiting the bus 3:20 in Porto.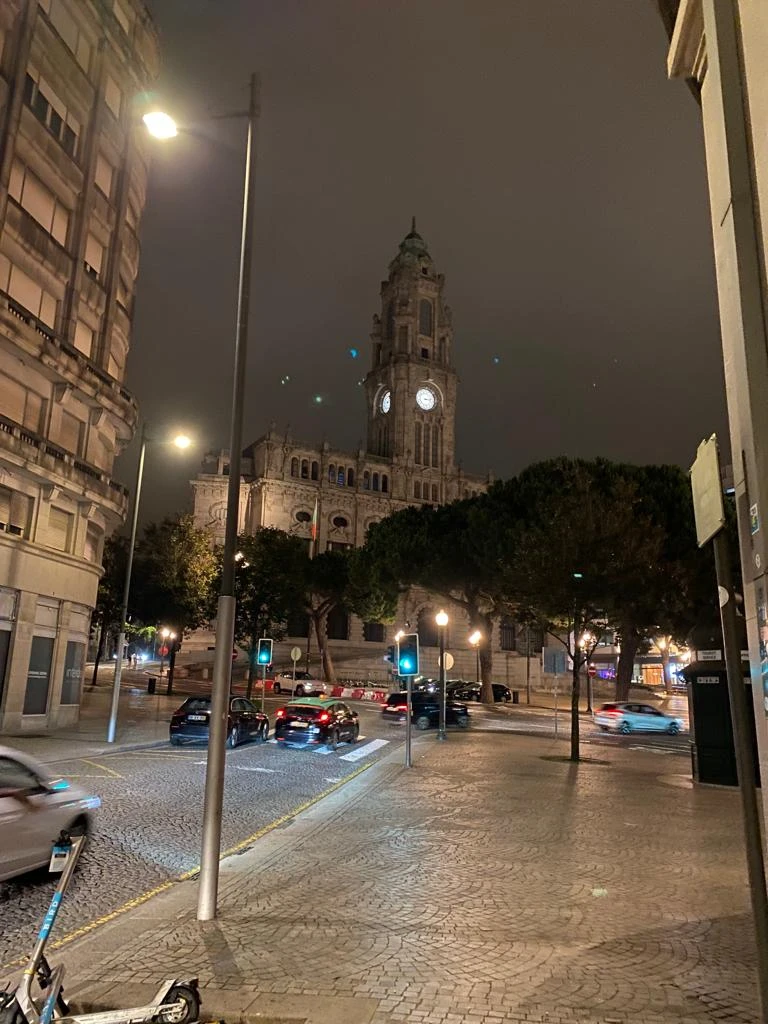 I had already checked in online, so I was able to skip the check-in queue and go straight to the baggage check.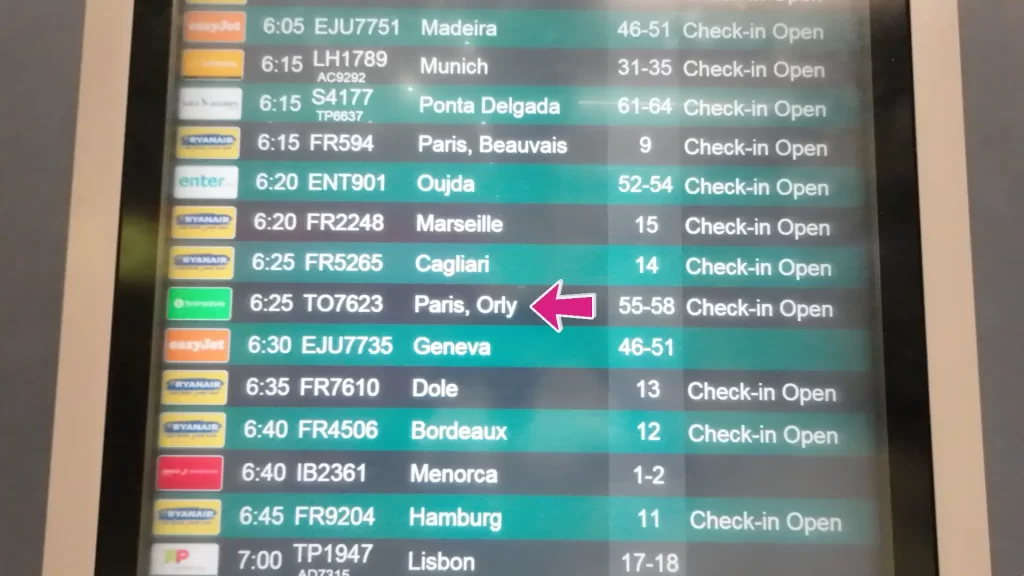 The flight was smooth and I arrived at Orly airport at around 9:30. Ingrid arrived there around 11:00. My friend Josué picked me up from the airport at around 11:30 and then we went to his house. Josué is a friend of mine who I met in Leiria, Portugal, when I was doing my master's degree in Civil Engineering. So I told him I was going to Paris and ended up staying at his house for three days.
We went to his house to drop off our bags and then we went to the shopping center to get something to eat, we were starving.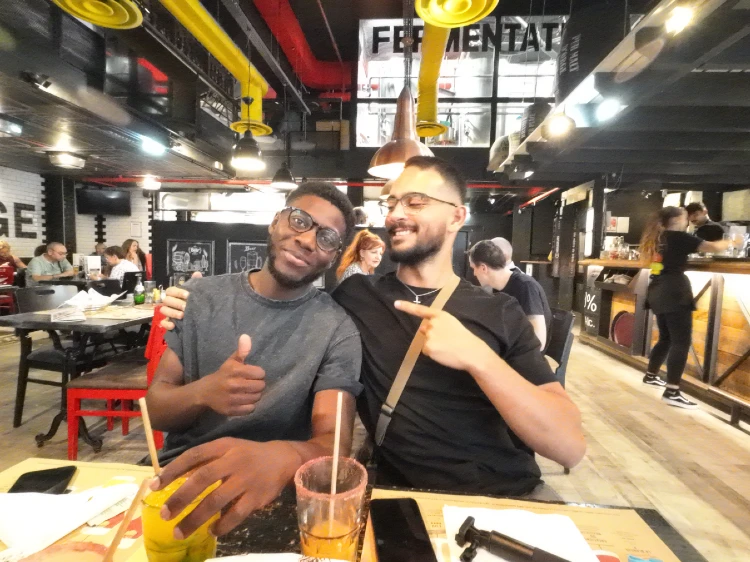 From the Arc de Triomphe to the Eiffel Tower
When we arrived at his house, we settled in, had a shower and then had lunch. Around 4pm we left his house in the direction of Paris. We were staying in Combs la Ville, so we went to Boussy St-Antoine train station to catch the D train to Gare de Lyon. At Gare de Lyon we changed for Train A, in the direction of Charles de Gaulle-Étoile. The good thing is that you get off right next to the Arc de Triomphe, so you can take lots of photos.
To get from the Arc de Triomphe to the Eiffel Tower is very simple, just follow Av Marceau straight until you reach the River Seine, there's no mistake. From the Arc de Triomphe you can also see the tip of the Eiffel Tower, so just follow the streets towards the tower. Grace went with us. Grace is Josue's girlfriend and she has lived in the Paris area for a long time, so she knows her way around. She ended up being our guide for the day and took some photos for us.
Paris, a Multicultural and Cosmopolitan city
When you arrive at the River Seine, you'll see countless tourists from all over the world. Chinese, Japanese, Hindus, Americans, Latinos, Africans, people from all over. I realized that Paris is a multicultural, cosmopolitan place, with people from every nationality in the world walking around or living/working there. Josue, for example, is from Gabon and lives and works in engineering in Paris. It seems to me that it's a place that offers many opportunities for those who are prepared, especially for those who can speak French and have some academic or professional qualifications.
First Impressions of Paris
We crossed the Pont de l'Alma and turned right towards the tower. Arriving at the Champ de Mars, I walked around and had some first impressions that differed from what you see on the internet.
What they say:
Full of rats
Pick pockets everywhere.
Dirty streets
What I saw:
Clean streets
I didn't see any problems or large crowds.
Constant policing, feeling of safety
No rats
Perhaps it was because I wasn't totally focused on observing the negative points of the place, the defects, but I didn't notice any of the bad things that people say about Paris on social media. Logically, when you visit a place for the first time, you end up focusing on the positives, looking at what is beautiful to the eye, and after a while you end up noticing the details. I confess that urban tourism, visiting cities and monuments is not my vibe, it's not the kind of tourism I like to do. I prefer to go out into nature, hiking, doing extreme sports, camping, discovering a lake, a river, walks that involve physical activity. Like Grindelwald, Lauterbrunnen or Schwarzsee Lake in Switzerland, or Poço Negro and Aldeias de Xisto, both in Portugal.
After walking around the Champ de Mars, we went to the tower to get information about going up. There were a lot of people, the queue was very full, but fortunately the service was efficient and people didn't wait long in line. But unfortunately or fortunately, it was already a bit late to go up the tower and we didn't want to have to rush up. So we decided to come back the next day and take our time climbing the Eiffel Tower. Leaving there, I was starving, so I grabbed one of those kebabs from the Indians selling them out front. As for the food, don't worry, there's plenty to choose from: Brazilian, African, Indian, Chinese, Japanese, Lebanese, Arabic and much more. I remember paying 7 euros for a chicken kebab, which I thought was a bit expensive considering that the kebab was small, so I had to eat 2 kebabs to get my fill plus a drink, so it was 14 euros for 2 kebabs plus 3 euros for a drink. I'm 1.85m tall and weigh 86 kg, so I eat a lot.
I thought Paris was an incredible place, you can see the history of the city in its streets, monuments and buildings. It's relatively expensive, I've been researching accommodation there and the hotels are a bit pricey, but there are options for all budgets. Paris isn't a place where you'll spend 15 days, at most 4 or 5 days, which is a lot. Visiting the main monuments such as the Eiffel Tower, Louvre, Molin Rouge, Notre-Dame Cathedral and others is enough to get an idea of what Paris is like. After all, you'll visit these places by metro or bus, which allows you to get to know the city a little more as you move around. I was also lucky in that I stayed at a friend's house for three days, so I saved a lot on this visit to Paris. I think I saved around 60% just by staying with a friend.
Here are some Pros and Cons of visiting Paris. I think you'll also notice the same things, or some of them, when you visit, especially the prices, cultural diversity, feeling the living history in the city and so on. These are the Pros and Cons that I consider when visiting Paris as a tourist.
Pros of Visiting Paris as a Tourist
Iconic Landmarks: Paris is home to some of the most famous landmarks in the world, such as the Eiffel Tower, Louvre Museum, Notre-Dame Cathedral (before the fire), and Sacré-Cœur Basilica.
Art and Culture: The city boasts an impressive array of world-class museums, galleries, and theaters, including the Louvre, Musée d'Orsay, and Palais Garnier opera house.
Culinary Delights: Paris is a food lover's paradise with its exquisite cafes, patisseries, and restaurants offering delectable French cuisine, pastries, and wines.
Charming Neighborhoods: Each district of Paris has its unique charm, from the historic Marais to the artistic Montmartre, allowing you to explore diverse atmospheres.
Romantic Ambiance: Known as the "City of Love," Paris exudes a romantic ambiance with its charming streets, Seine River cruises, and breathtaking views.
Fashion Capital: Paris is a global fashion hub, offering shopping experiences from luxury boutiques to vintage markets.
Cultural Diversity: The city's diverse population brings together various cultures, languages, and traditions, making it an enriching cultural experience.
Cons of Visiting Paris as a Tourist
Crowds: Paris is a major tourist destination, leading to crowds at popular attractions, especially during peak seasons.
Language Barrier: While many locals speak English, some communication challenges might arise if you don't speak French.
High Costs: Paris is considered an expensive city, from accommodation to dining and entrance fees to attractions.
Weather Variability: The weather can be unpredictable, with rainy spells even during the tourist season.
Scams and Pickpocketing: Like many tourist-heavy cities, Paris has its share of pickpocketing and scams in crowded areas.
Traffic and Public Transport: Traffic congestion and occasional strikes affecting public transport can impact travel plans.
Limited Sunday Activities: Many shops, restaurants, and attractions are closed or have limited hours on Sundays.
Long Lines: Famous attractions like the Louvre often have long lines, requiring advance planning or timed-entry tickets.
Ultimately, the decision to visit Paris depends on personal preferences and expectations. The city's iconic beauty, rich history, and cultural vibrancy can offer an unforgettable experience, but it's essential to consider both the positives and challenges of touring this beloved destination.
Daily Cost to Visit Paris
The daily cost of visiting Paris involves several factors. It depends a lot on the type of tourism you're going to do, whether it's more rush-tourism, slow travel, whether you're very picky about food, transportation and accommodation.
Here's a rough estimate of daily costs for visiting Paris as a tourist, categorized into low-budget and high-budget options. Keep in mind that these costs can vary based on personal preferences, exchange rates, and current prices. These estimates are for one person.
| | | |
| --- | --- | --- |
| Expense | Low Budget | High Budget |
| Accommodation | $40 – $80 | $150 – $500 |
| Meals | $20 – $50 | $50 – $150 |
| Transportation | $15 – $30 | $20 – $50 |
| Attractions | $15 – 30 | $30 – $100 |
| Miscellaneous | $15 – $20 | $30 – $100 |
| Total | $105 – $210 | $280 – $900 |
Low Budget:
Accommodation: Staying in budget hostels or budget hotels.
Meals: Eating at inexpensive cafes, markets, or preparing some meals yourself.
Transportation: Using public transportation and walking.
Attractions: Visiting mainly free or low-cost attractions, such as parks and some museums.
Miscellaneous: Spending on incidentals like water, basic shopping, and low-cost entertainment.
High Budget:
Accommodation: Staying in mid-range to luxury hotels or private accommodations.
Meals: Dining at mid-range to upscale restaurants, enjoying some gourmet experiences.
Transportation: Using a mix of public transportation and taxis/rideshares.
Attractions: Visiting a mix of paid attractions and entertainment.
Miscellaneous: Allowing for shopping, guided tours, and higher-priced entertainment.
Places you can't miss in Paris
There are several off-the-beaten-path places in Paris that tourists might easily overlook but offer unique experiences and insights into the city's culture. Here are a few places you might not want to miss:
Parc des Buttes-Chaumont: This park is a hidden gem, featuring a hilly landscape, a serene lake, and a picturesque temple on an island. It's a great spot for a peaceful walk away from the city's hustle.
Canal Saint-Martin: A stroll along this scenic canal offers a glimpse into the local Parisian life. You can find charming cafes, boutiques, and art galleries along the water's edge.
Promenade Plantée: Often referred to as the "original highline," this elevated park stretches for nearly three miles along a disused railway viaduct. It's a tranquil oasis with gardens and stunning views.
Musée de la Chasse et de la Nature: This quirky museum is dedicated to hunting and nature, featuring an eclectic collection of art and artifacts related to these themes.
La Pagode: Tucked away in the 7th arrondissement, this beautiful pagoda-style cinema is a unique place to catch a movie. Its lush garden and architecture make it a charming setting.
Petit Palais: While the larger Grand Palais gets more attention, the Petit Palais is often overlooked. This museum features a remarkable collection of fine arts, including paintings, sculptures, and decorative arts.
Montparnasse Cemetery: While Père Lachaise Cemetery is well-known, Montparnasse Cemetery is less crowded and equally rich in history. It's the final resting place of several notable figures, including Jean-Paul Sartre and Simone de Beauvoir.
Musée de la Vie Romantique: This museum is a tribute to the Romantic era, featuring art, literature, and memorabilia from the 19th century. The charming tea garden is a perfect place to relax.
Passages: Paris has a network of hidden shopping arcades known as "passages." These covered walkways are lined with unique boutiques, cafes, and bookshops, offering a glimpse into Parisian life.
Coulée Verte René-Dumont: Inspired by the Promenade Plantée, this elevated park runs along an old railway line in the 12th arrondissement. It's a peaceful place to escape the urban bustle.
Remember, while exploring these lesser-known spots can provide a more authentic experience of Paris, it's always a good idea to balance them with the iconic attractions the city is famous for.
Going back to Combs-la-ville
As we were at the Eiffel Tower, we basically did the opposite route, going back to Charles de Gaulle-Étoile to take the Metro A to Gare de Lyon. From there Josue was waiting for us by car so we could go back to Combs la Ville together. So we arrived around 11pm and went to bed, very tired as I'd lost the night in Porto. But the next day I would wake up feeling more energized and revitalized.