Why change the route from Paris to the France countryside?
You don't need me to give you reasons to go to France, Paris speaks for itself. However, as splendid as the country's capital is and as much as it enchants many tourists, let's face it, it's a cliché and a beaten track, and France goes way beyond Paris.
Receive fresh and updated news about all the European environment, travel promos, money, and more…
Does this mean you should skip Paris when you go to France? Not really, this city is and always will be stunning; visiting it is a magnificent experience. However, go beyond Paris, discover other routes, new destinations, cities, towns… The France countryside is beautiful, the culture is so rich that it spills over into its cuisine, fills your glasses of wine and entices you with its historic buildings and impressive festivals.
So change your Paris route and extend it through at least one rural France towns region and I guarantee your experience will be ten times better!
France camping: Price, places and tips for camping well in 2023
How much does it cost to visit France?
The key part of any trip is knowing how much it costs to visit the country you want to go to. It is normal that you have no idea how much it costs to visit France, so we have separated the cost of an economy, medium and luxury trip to the country.
COST OF A LUXURY TRIP TO FRANCE
COST OF AN AVERAGE TRIP TO FRANCE
THE COST OF A LOW-COST TRIP TO FRANCE
AVERAGE COST OF A FLIGHT AND FLIGHTS -7 days trip
Which part of rural France do you must visit?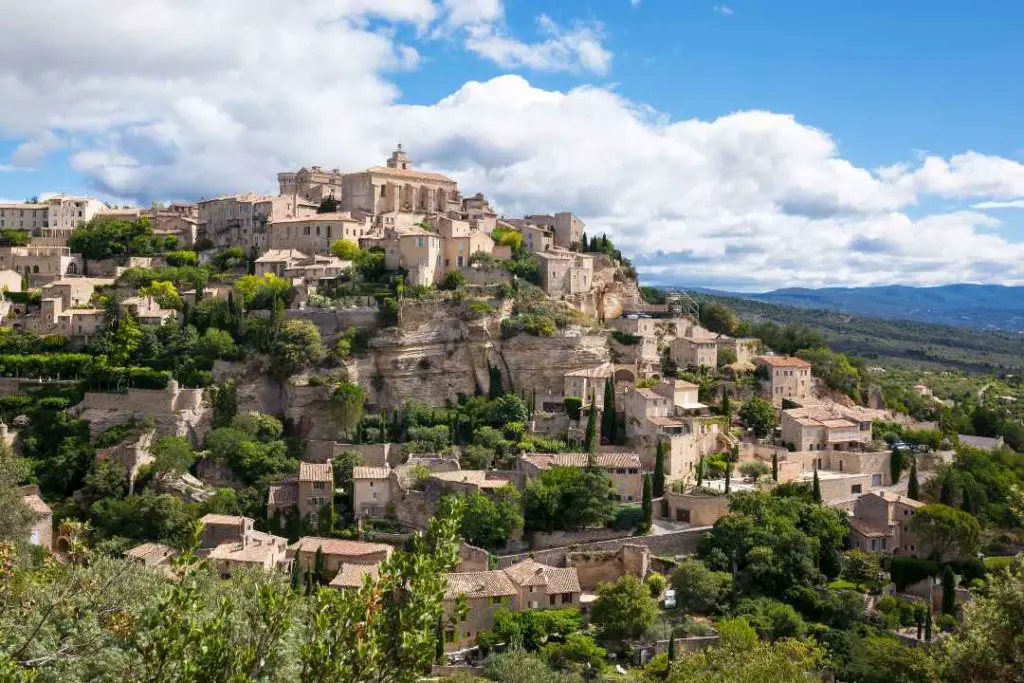 Going beyond the famous Paris, the South, South West, North and North West of France are the most recommended regions for tourists to visit (although the East, South East and North East are also excellent destinations), along with some specific country towns and villages and the coastal region. There are options to suit many tastes, especially as much, if not most, of France is rural.
For those who crave the tranquillity of the countryside with peaceful places to relax, there is a huge area of rural France france suitable for this, with plenty of choice. For those who want it all, but with a little more excitement such as attractive walks and landscapes to explore, interesting attractions and monuments, exciting activities, wildlife… The mountainous regions or France west of the River Siena and south of the Loire are the best choices.
 Among France's current 13 regional divisions, the regions you should visit to have a rich and complete experience of the French countryside are:
Normandie
Bretagne
Île-de-France
Provence-Alpes-Côte-d'Azur
Aquitaine
Alsace
Langurdoc-Roussilion
Unmissable destinations in the France countryside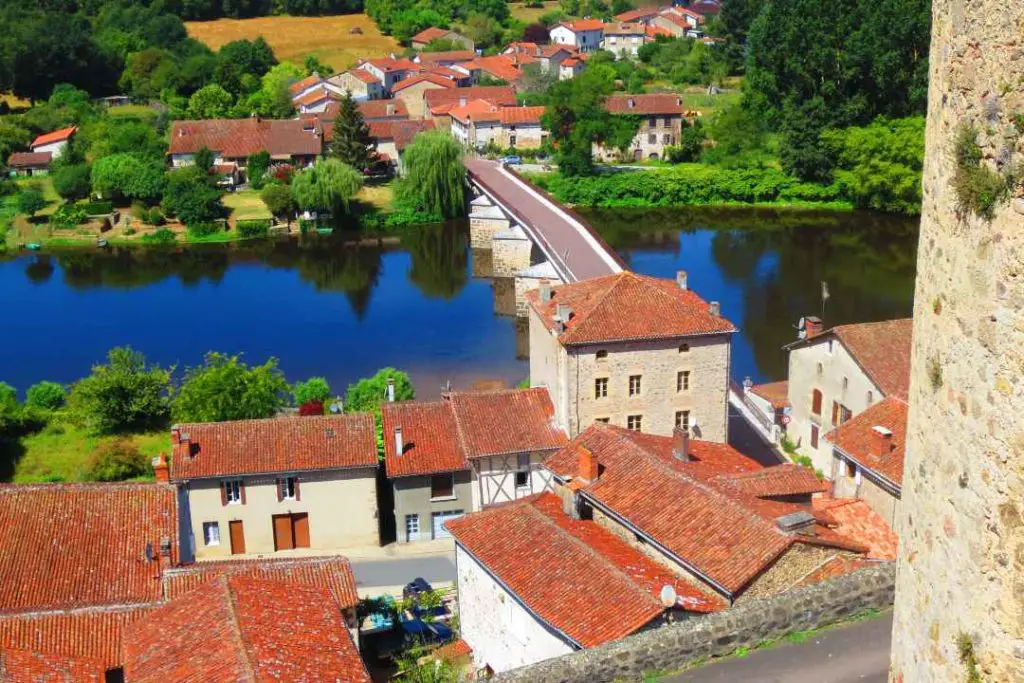 The villages and towns in the France countryside are truly spectacular; some are visited a lot, others not so much, but all are fascinating. We have compiled a list of some of the most beautiful places in France that you cannot miss on your tour.
Loire Valley
Bordeaux
Colmar
Gordes
Honfluer
Lyon
Ploumanac'h
Saint Tropez
Troyes
Vézelay
The Loire Valley is a town in the Loire Country that is the very definition of elegance. There are countless castles and rustic houses, wine regions with wine bars and the famous and delicious Muscadet, as well as iconic architectural attractions. The ones you need to visit to enjoy the best of the region are Angers, Nantes and Tours.
And it's not just because we're talking about inland cities that they necessarily have to be small. Bordeaux is the capital and largest city of a famous wine region, but it has the same style as the other cities in the French countryside. It has elegant architecture, historic sites and an immense cultural variety. Visit the wine region, the impressive Place de la Bourse and Pierre Bridge.
Situated in the Alsace region, Colmar, also known as Little Venice, is a beautiful region with many pastel stucco houses, wonderful restaurants and cafés. Some of the town's best attractions are its medieval heritages: these are the Gothic Church of St Martin, the historic cottages and the Unterlinden Museum.
Gordes is a very famous area among tourists during the summer, situated on one of the sunny hills of Provence-Alpes. In Gordes you can delight in the views of the Luberon Mountains and the Coulon Valley, the cellars of the Palace of Saint Firmin, with exploration of the secret areas of the town, and the magnificent buildings that adorn the town beautifully.
Honfluer is a town in the Normandy region on the banks of the River Seine. Throughout the harbour there are cafes and restaurants where visitors can use the outdoor area to indulge in blue lobster while enjoying the view of the boats sailing nearby. When visiting the city, be sure to check out the art museums, the Capeta de Notre Dame de Grâce, the Church of Saint Catherine and the many historical monuments housed in honflouer.
Lyon is France's third largest city, with many districts and historical and cultural gems everywhere. The best of the region's gastronomy is in the restaurants of Presqu'île, while the rich historical heritage and incredible monuments and architecture are in the secret passages of the Croix-Rousse, the ruins of Fourvière and the parks of and Brotteaux.
Situated in Brittany, Ploumanac'h is a seaside town with a beautifully toned sea and a coastline littered with pink granite rocks that make it a postcard landscape. The beach is the main attraction, with hotels surrounding it in a half-moon shape. Plus, with a short boat trip you can easily reach Les 7 îles, with rare animals to behold.
Côte d'Azur is home to Saint Tropez, a resort town with unspoilt beaches such as Nikki Beach, where you can enjoy dancing and celebrity music on board glamorous yachts or in some beach club such as Club 55. If you want to experience the pristine beaches with more tranquillity, Saint Tropez Village is the perfect option for you.
For wine and champagne lovers, Troyes is a paradise. A train ride away from the Paris countryside, the city located in the Champagne region, is also just minutes away from the champagne houses and wine region; in them visitors can taste the best sparkling wine in France. In addition to the vineyards, the city's cafés and bakeries are full of local delicacies, the cathedrals of Saint Paul and Saint Pierre, the many museums and the classical music playing on street corners.
Vézelay is a town, also situated in Burgundy, which holds many religious relics of Saint Madeleine, becoming a meeting place for many religious people. It is possible to learn more about the history of the basilica by visiting it, visit the Visitors' Houses, but before that you can stop by the bars and bakeries on the main street for a snack before your visit.
Receive fresh and updated news about all the European environment, travel promos, money, and more…
France countryside activities you can't miss
When it comes to visiting the French countryside, there are certain activities that you should definitely take part in; from cruising on the Seine River to strolling through the streets of charming villages. Now, if you have no idea what activities you can do on your trip, check out these great options for you:
Be enchanted by Mont Saint-Michel – Travellers claim that the landscape of Mont Saint-Michel looks like a scene from a medieval film. Being a rocky island on the banks of the Couesnon River and the region where Brittany and Normandy intersect. In addition, there is a rough tide that approaches the island, making the place even more beautiful.
Take the trip Normandie's D-Day Landing Beaches – This is a very popular day trip in tourist circles. With a historical charge from the Second World War, 6 June marks an important date for the locals. Take this trip, but enjoy more time in the area and visit the beaches and some of the War memorials.
Have a Royal Day at the Palace of Versailles – On a holiday, you can take a cue to have a royal day at the Palace of Versailles. With ancient French architecture, there are water fountains, over two luxurious floors, a breathtaking garden and you can explore the home of three French kings. Considered one of the top sights in France, without a shadow of a doubt you will have an extraordinary experience as it is also possible to take a paddle boat ride around the Grand Canal.
See the lavender fields of Provence – If you are looking for beautiful places to see, photograph and be impressed by nature's talent, the lavender fields of Provence are made for you. If you go in the flowering season in some of the areas (Valensole Plateau, Sault Plateau and Luberon Valley) you will find one of the most beautiful landscapes in all of France (at least one of the most striking), it is a unique activity!
Explore the Artists' Villages in Provence – Saint-Paul de Vence is a town considered to be medieval, with seaports and several works of art with a wide range of colours. If you are looking for an activity that has art history involved, this hilltop town features many museums and art galleries. So, be aware that many famous painters have been inspired by this small but attractive region.
Have fun with Normandy ciders – The Normandy region is known for producing famous drinks like the local cider, Pommeau and Calvados. You can have fun with the region's apples by seeing all its production with the Cider Trail and trying some of the best cider around!
Watch in the Camargue Nature Reserve – This is a unique activity in France and perfect for those who crave a trip to the French countryside in search of tranquillity. Camargue is a protected area that is home to herds of horses, pink flamingos and other birds. If you enjoy bird or animal watching, the place is amazing for it, as well as being able to relax with nature surrounding you.
Dive into the Centre of the Earth – The Journey to the Centre of the Earth in Gouffrede Padirac is a trip to a natural cavity in Lot in Occitania, 53 metres wide and 103 metres deep. On the trip, after a while of walking, you can enjoy a boat ride through this jewel of France. Visiting this underground river will give you a unique landscape in France.
Shop the markets in Provence – Something very popular in rural areas but very unknown in urban areas in the city are the weekly markets with locally produced or prepared fruit, vegetables and other produce sold fresh. The markets in Provence are charming, following in a ritual tradition, with wonderful smells and the feeling of a warm embrace. Be sure to stop by and buy some food or some of the other products sold such as flowers, laundry, clothes, tablecloths etc.
Cycle Bordeaux – The route you can create to your liking, just as the kilometres to be covered are to your liking. Certainly, cycling around Bordeaux presents stunning scenery, so check out some routes you can take:

A 20-kilometre ride along the Roger Lapébie cycle path in the Entre-deux-Mer region.
Walk 50 kilometres, from Bordeaux Saint-Émilion, which is considered a rather medieval village, featuring monasteries and churches around. If you want to take your time to visit the place, know that there are over 300 historical monuments to visit.
A 45-kilometre walk from Bordeaux to the Château de Rauzan. With a castle that has been renovated over the centuries, this route has several options for you to enjoy: views of the village, access to the tower and open to visitors.
There are several other routes, from six kilometres to 29, just choose the one that suits you.  
6. Events in the French countryside that you must attend
Something that the interior provides a lot are festivals, in the countryside of France would be no different, there are many events and festivals that colour and brighten up the city, and entertain tourists who may come to participate. So, we have separated some of them for you to have an idea of what the French countryside has to offer.
Mentons Lemon festival – Fête du Citron
During the winter, in February, an event celebrating lemons takes place in the town of Menton. The Fête du Citron features giant sculptures of citrus fruits, mainly lemons, as well as parades, music, dance and concerts.
For a fortnight in February, the French Riviera celebrates the Nice Carnival. It features parades of floats with huge decorations, brightly lit and colourful streets, lots of musicians, dancers, and the essential, the battles of flowers that whirl through the streets of the city.
In Lyon, early December sees the Fête des Lumières, a beautiful festival that began with the statue of the Virgin Mary being erected and the locals, as a tribute to her, placing candles in the windows, illuminating the city. Today, several streets, plays, buildings and parks are illuminated by artists, leaving the city filled with lights in a magical setting.
Hailed as the best historical event in France, the Great Roman Games are held at their headquarters in Nîmes, one of the best preserved amphitheatres in Europe with a capacity for 24,000 people. Every year, a celebration of Julius Caesar's conquest of Rome is held, which is a real spectacle in terms of acting, staging, costumes and the participants' delivery.
Provence, as mentioned in one of the activities to do in France, is well known for its lavender fields, having one of the largest in the world. Between July and August, in Dignes-les-Bains in Haute Provence, the Lavender Parade takes place in early August for 5 days. During the nights there are fireworks, but during the day the locals get lavender biomass and there is also an amusement park and float parade.
Dishes from the French countryside that you must try
Just like Italy, France has a cuisine that is highly regarded around the world and many of its most famous and tasty dishes are made in the countryside. So, to give you the full experience, we've separated 10 dishes from the French countryside that you must try!
Although a delicacy originating in ancient Egypt, foie gras is produced in abundance in the inland regions of Alsace and Aquitaine.
It is a gourmet dish that can be enjoyed in various ways (entier, cuit, mi-cuit, mousse, pâté, parfait, frais) and should be accompanied by a suitable wine. For example, sweet wines such as Vouvray, Sauternes and Saussignac are perfect for half-cooked foie gras, while dry champagnes (dry, medium-dry or extra-dry) and white Burgundies such as Pouilly-Fuissé or Meursault are the best accompaniments to toasted foie gras.
L'omelette de la mère Poulard
L'omelette de la mère Poulard is a simple dish, but a gem of the Normandie region. The charm and uniqueness of this omelette lies in its traditional recipes which are passed down from generation to generation and kept secret in the meantime.
The drinks to accompany this delicious omelette are le vin du diable (champagne sparkling wine) and Muscadet (white wine from the Loire region).
An authentic and traditional fish stew from France. It is made with bone fish, local spices, as well as herbs, vegetables and pulses to cook and make the broth.
The dish is accompanied by fish, a traditional local mayonnaise called rouille and slices of bread, Chardonnay is also recommended to be added to the side dishes.
This dish is a traditional family recipe, originating and still much appreciated in the Langurdoc-Roussilion region.
It is a heavy dish, so it is recommended to prepare yourself if you want to try it. It takes different types of pork, white beans and pork legs.
France also has its own traditional Pizza recipe. The Pissaladière is a thicker version than the classic Italian pizza, with garlic and olives, caramelised onions and whole onions or anchovy paste.
An excellent wine to accompany the dish is Bellet.
A dish shrouded in tradition and legend, coq au vin is prepared slowly, at least a day before being served, as well as heated for half an hour when serving it.
Recommended wines to enjoy with the dish are Gevry-Chambertin and Morgon.
In France, rabbit meat is as widely used as other white meats, mainly because of its advantages (low fat and cholesterol, rich in protein, minerals).
Being a healthy meat and popularly known for disease prevention, it is widely produced in the homes of several families. Its special touch is the Dijon mustard, and the main choices of wines for pairing with the dish are Chabsagne-Montrachet, Chardonnay and Pernand-Vergelesses.
Also produced in Alsace, Choucroute is a strong local dish with Germanic gastronomic influence.
It has 3 options of traditional recipes: de la mer, garnie and royale. A tasty combination is practised with the regional wine, Gewurztraminer.
Another traditional dish of Alsace, considered one of the most traditional, Flameukueche is a pie baked for three minutes in a wood-fired oven.
There are some recommended options: forestiére with mushrooms, with cinnamon, apple and flambéed in Calvados, with Munster cheese and gratin with gruyère cheese. For drinks, try Riesling d'Alsace.
Ratatouille
The famous ratatouille niçoise, which you may already know at least from the Disney Pixar animation that bears this same name, is a summer dish.
It can be tasted hot or cold and accompanied by a Clos Sainte Magdeleine (white wine), a Costière-de-Nîmes (red wine) or a Château Peyrassol (rosé).
Amazing wines produced in the French countryside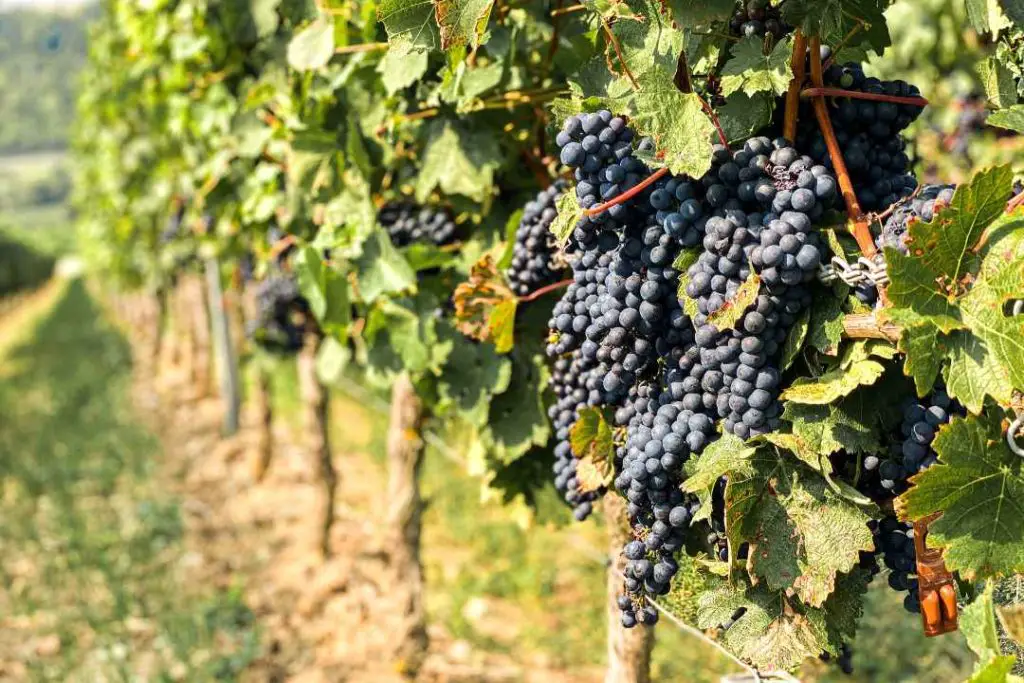 Wines are an attraction of their own in the French countryside, especially as some of the best in the world are produced there. Going to French restaurants and enjoying a good wine with a tasty local dish is an incredible experience, as is visiting a winery to learn how it's produced and tasting it there.
So we've separated some amazing wines to drink when you go to France in 2023! (And if you like it enough to want to taste it more often when you're at home, we've got the best places for you to buy it too).
Best French white wines
Domaine Guiberteau Saumur Blanc
An acidic, full-bodied wine with delicious fruit flavours has everything to please countless palates and that is precisely why Domaine Guiberteau Saumur Blanc is one of the best productions in its region.
Region: Loire Valley
Tasting notes: Stone fruit, baked apples, honey, crushed stones
Where to buy: Vivino
Roulot Bourgogne Blanc
Produced by Jean-Marc Roulot, one of the largest producers of chardonnay in the Burgundy region, this wine has a sweet and sharp taste, extremely delicious. A bottle can cost very high values given the enormous quality, however, an alarm has a taste as good as good, with affordable value.
Best French red wines
Jean Foillard Morgon Côte du Py
A wine for all seasons, easy to taste for both novices and professionals, with one of the best value for money, Jean Foillard Morgon Côte du Py is one of the best options to taste in restaurants in rural France towns when enjoying alone. Taking this wine home is like taking a little bit of France home with you.
Region: Morgan (Beaujolais)
Tasting notes: Violets, dark cherries and dried herbs
Where to buy: Vivino
Camille Giroud Bourgogne Rouge
An authentic and accessible Burgundy, with the combo of acidity, refreshness and flavours it is undeniably pleasing to many palates, especially if tasted a little chilled.
Region: Burgundy
Tasting notes: Sweet spices, mushroom, black cherry
Where to buy: Drizly
Domaine Jean-Louis Chave Saint-Joseph
With pronounced flavours from its fruit and ingredients and yet balanced, Domaine Jean-Louis Chave Saint-Joseph brings the quality of a Jean-Louis Chave, but at a more affordable price than the Rolout.
Region: Rhone Valley
Tasting notes: Dark fruit, cracked black pepper, violets
Best French rosé
Triennes Rosé
Produced by the ideas of the winemaking scholars, Albert de Villaine and Jerrmy Saysses, from Burgundy, Triennes Rosé has an extremely satisfying and accessible result that makes it one of the best rosés in France.
Region: Provence
Tasting notes: Grapefruit peel, strawberry, sea salt
Receive fresh and updated news about all the European environment, travel promos, money, and more…
Best French sparkling wines
Laherte Frères Blanc de Blancs Brut Nature Champagne NV
A real gem from one of the main inland wine producing regions, Laherte Frères Blanc de Blancs Brut Nature Champagne NV is a creamy wine with intense flavour, excellent quality and, on top of it all, an affordable price. This delicious white wine is a must try when visiting the French countryside.
Region: Champagne
Tasting notes: Brioche, chalk, white flowers, lemon cream
Where to buy: Vivino
Bénédicte and Stéphane Tissot Crémant du Jura Brut
A sparkling wine that is not champagne, although produced in the same way as those of the Champagne region, with different varieties. It has a unique taste and could easily be tasted at any time of the day.
If you are curious to know more about the wines produced in the French countryside, Vinovest has everything you need to know!
Excursions to do in the French countryside
How, which places and what you want to see/experience the French countryside depends on your preferences, so we have brought 4 options of tours around the French countryside for you:
Cycling tour
Train ride
Gastronomic tour
Cruise tour
Cycling tours in the French countryside
A bike tour is incredibly invigorating and if it is in the tranquillity of the countryside, the beautiful landscapes and the included activities it gets even better. Check out some options.
For more cycling tours visit Roar Adventure.
Receive fresh and updated news about all the European environment, travel promos, money, and more…
Train rides through the French countryside
Another wonderful way to get to know the France countryside is by train. The scenic trains and tourist routes have everything to show the truth France in a light and comfortable way.
For more train rides visit Rail Bookers.
Gastronomic tours of the France countryside
The best of the French countryside is certainly the gastronomy and wines produced in the countryside. Staying in a country house, a B&B or a guesthouse with local dishes and wines is the perfect way to experience the best of the country.
For more food tours visit The Guardian.
Cruising in the French countryside
To finish, we couldn't miss the cruise tours, after all, how can you go to France and not take a cruise on the Seine River? This is the most breathtaking tour in France. Check out some suggestions:
For more cruising go to Adventure Life.